"A Little Rush" Music video shoot with Christopher Lawrence and SuZie Del Vecchio
Article courtesy of URB Magazine ::
Photography courtesy of Michael Tullberg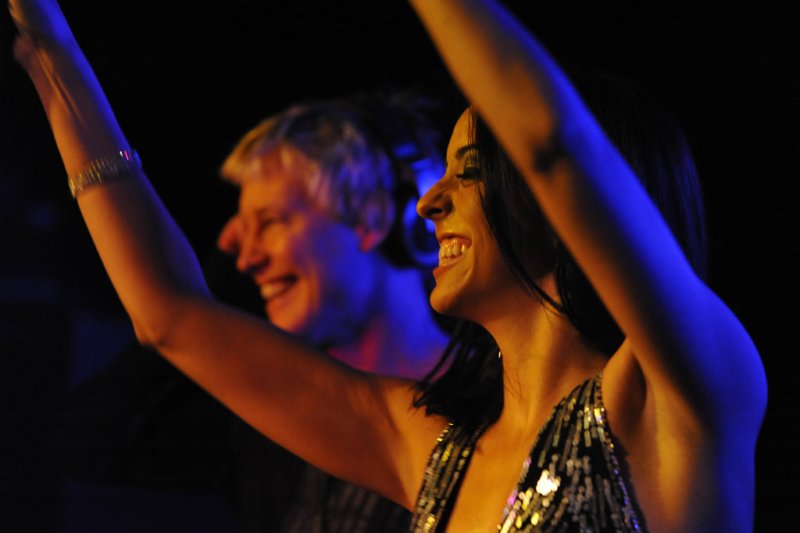 The Playhouse in Hollywood, besides being host to the now near-legendary Bud Brothers Monday Social (14 years & counting!), also from time to time has served as the site for music video shoots.  Perhaps the most famous example was Tiesto's highly-publicized set late last year.  Well, unlike that night, the house was cleared for this new video, for the upcoming Christopher Lawrence single "A Little Rush".  Hopped up, pumping and unapologetically high-energy, "A Little Rush"s glistening synthetic beats are complemented by the lush vocals of singer Susy del Vecchio.  If that latter name doesn't sound familiar to you, it no doubt will soon, as del Vecchio's recent collaboration with Paul Oakenfold, "Mesmerized", has already been remixed by Adam White, Mark Lewis, Swedish Egil, Hirofumi Ohta and Anthony Garcia, among others, and is expected to be released soon by Oakenfold on his Perfecto label.
The shoot started with Lawrence and del Vecchio together behind the turntables on the Playhouse's main stage.  Before long, however, del Vecchio began strutting around the stage and up onto the rear bar as Lawrence held down the fort.  Once the first portion of the shoot wrapped, the doors opened and the Monday Social crowd began streaming in, which served as the backdrop for the next part of the video shoot, during which del Vecchio apparently gets jilted by an unfeeling boyfriend.  Not that too many of the crowd even noticed the shoot was taking place–by this point, most of them were thoroughly engaged by the sounds of Layo and Bushwacka.  All in all, a productive and fun evening, with another day's worth of shooting to be completed the following day.  Needless to say, the finished product should be quite interesting.
Here's a sneak preview of "A Little Rush": A Little Rush (preview) The single will be available in December on Curvve Recordings already available for download.
Article courtesy of URB Magazine ::